Wedding destination: Opatija
One of the first questions to ask a wedding photographer is: "Have you already photographed on the location where our wedding will take place?" And that's how an idea to present you some our favourite destinations through picture and few words arose…
Looking for a perfect place, a charming detail or a particularity through the camera lens, photographer is intensively getting familiar with its surrounding. By carefully observing and listening, sometimes a love written in every captured photo is born. This is such a story about Opatija and why it is the ideal destination to crown your love. And moreover, some interesting facts about weddings at the end of this article! 😉
Location, location. One of the decisions you have had or you'll just have to make is to choose best wedding destination.
Where we can get married? You have surely thinking about that at least once.
Some of them will choose a place where they've met their soul mate, others a place where they grow up and third a popular exotic destination. There are those who still do not have the idea where they can crown their love.
Choosing a wedding destination is very important. Environment and atmosphere can turn your wedding into a real fairy tale. The environment is undoubtedly the best ally of every photographer.
During the years of our work we have photographed hundreds of different locations around the world. Some of them look a little more photogenic, some of them less but each of them has its particular charm which is especially well reflected in a photo. One of such destinations we fall in love with it is Opatija.
Specialized photographer for Opatija based weddings
Each new wedding shooting in Opatija brings a smile to our face. Because we know that it will be fabulous. And because we know how greeeeat is going to be. And when we've been awarded a charming title of "specialized photographer for Opatija based weddings" we became sure that it was a mutual love. And that we simply have to write this story and share it with you. 🙂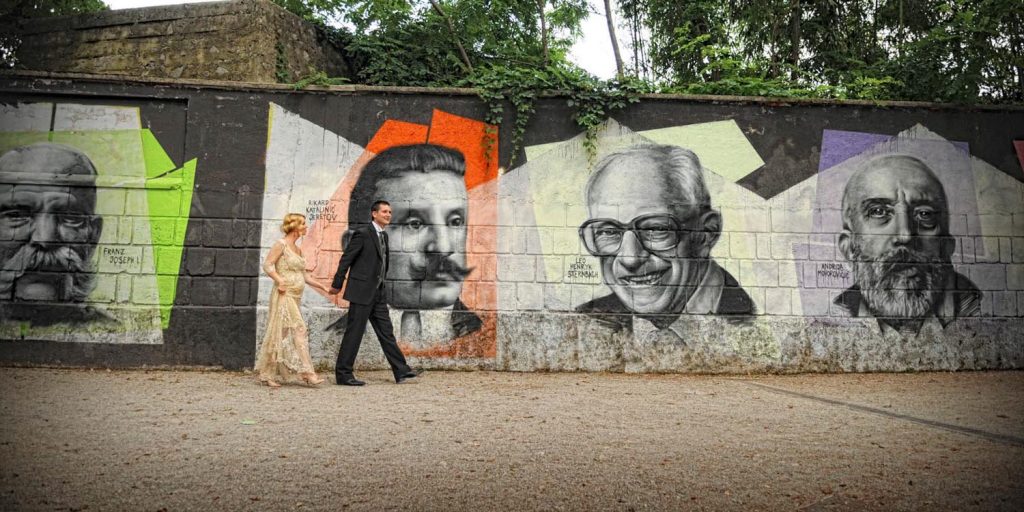 Opatija, town with a rich history, represents a perfect combination of elegance and romance. At the first glance Opatija conquers with its green parks, colourful flowers, fountains and fantastic views of the sea. All that represents a perfect scenery for an album which you will browse countless of times in your life.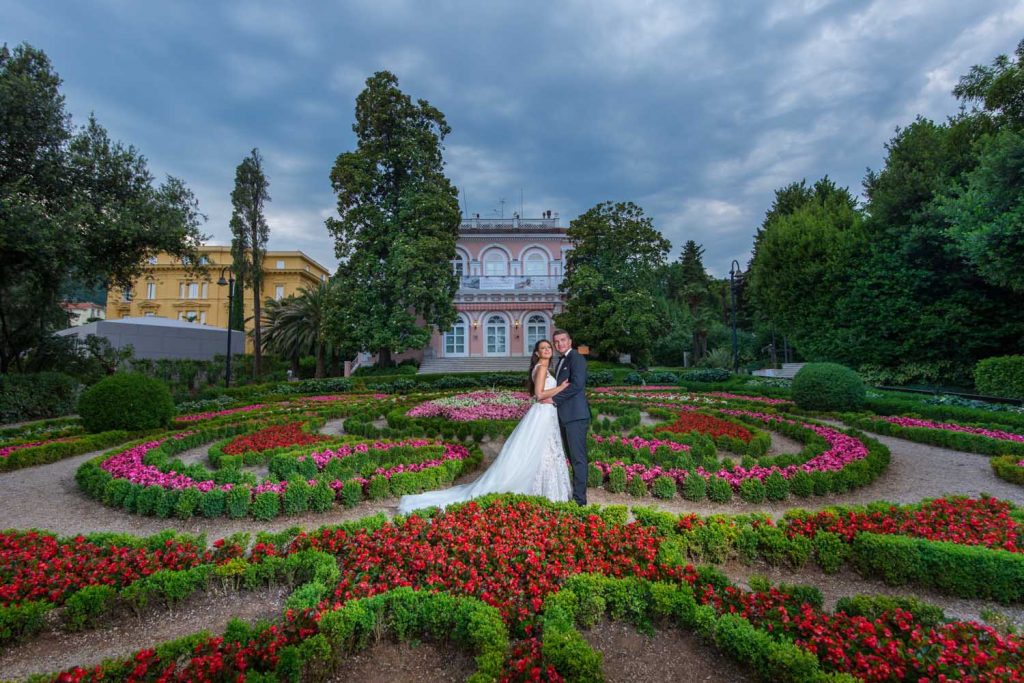 Why Opatija is an ideal wedding destination?
Opatija is one of the most romantic destinations in the world. Exudes a particular elegance, luxury and an addictive charm. Photos captured at Lungomare promenade with a sea view, are completely glamorous.
And do you know what else is great? You can do everything on foot, car and driving are completely unnecessary.
Mild climate, a lot of hours of sunshine and spacious terraces enable outdoor weddings almost throughout the year.
Opatija is also known for its gourmet segment, wellness accompanied by a rich and varied offer of top quality accommodation facilities as well as excellent restaurants.
Thanks to its favourable geographical location, is easily accessible for invited guests coming from many major European cities and airports.
Opatija is an elegant, refined, idyllic and fanciful, a perfect place to start your life together and create happy memories.
And for us, specialized photographers for Opatija based weddings with years of experience, one of the most favourite shooting locations. 🙂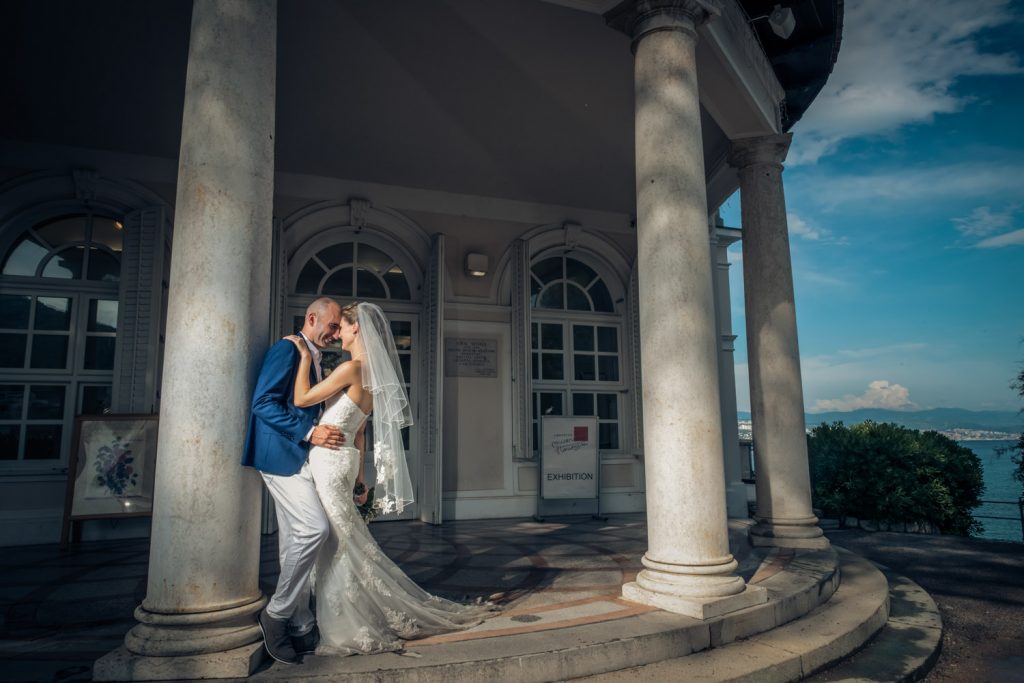 P.S. Did you know that in some eastern countries the eyebrows are considered extremely seductive so brides should have shaved them off in order not to seduce another man at the wedding? Very similar origin has a superstition about the unhappiness that will occur in the marriage if bridegroom sees his fiancée in a wedding dress. It originates from the time of arranged marriages when was advisable to avoid a previous meeting of newlyweds because there was a risk that some of them escapes due to the ugliness of his/her partner. 🙂